Tiara Glass was marketed by Tiara Exclusives of Dunkirk Indiana that was only available for purchase through home hosted parties between 1970 - 1998.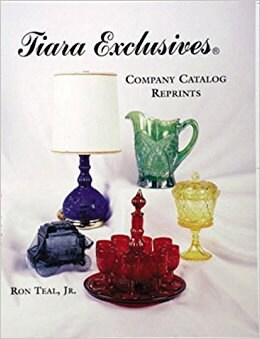 I found this awesome catalog (book) online and it makes a great reference source that I refer to often.
Tiara offices along with the offices of Indiana Glass were housed in one building and both were owned by Lancaster Colony Corporation.
Indiana Glass made a good portion of glass on behalf of Tiara Glass (Tiara warehoused, sold and shipped glassware but they never manufactured it). You will also find other glasswork companies such as Fenton and L.E. Smith manufactured glassware pieces for Tiara. My favorite book for researching the pieces Fenton produced for Tiara is: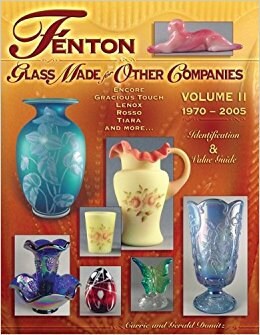 A wide variety of handmade and machine made patterns were produced along with some reissues of patterns that were originally produced by Indiana Glass. These reissues used the same moulds for patterns such as Avocado and the ever popular Sandwich Pattern. The glassware itself is not marked with a maker's mark (with very few exceptions) most of their glassware used paper or little Gold labels saying Tiara Exclusives to mark their pieces.
The Sandwich Pattern is the most recognized Tiara Exclusive Pattern. Indiana Glass originally produced sandwich depression glass during the 1920's (sometime during that same period Duncan Miller also produced something similar to sandwich glass) so it was natural for Indiana Glass to manufacture Tiara's reissue of this beautiful pattern in the 70's.
Tiara glass sold sandwich glass in clear, amber, ruby, chantilly (light) green, spruce/teal green, bicentennial (dark) blue, amethyst and peach/pink.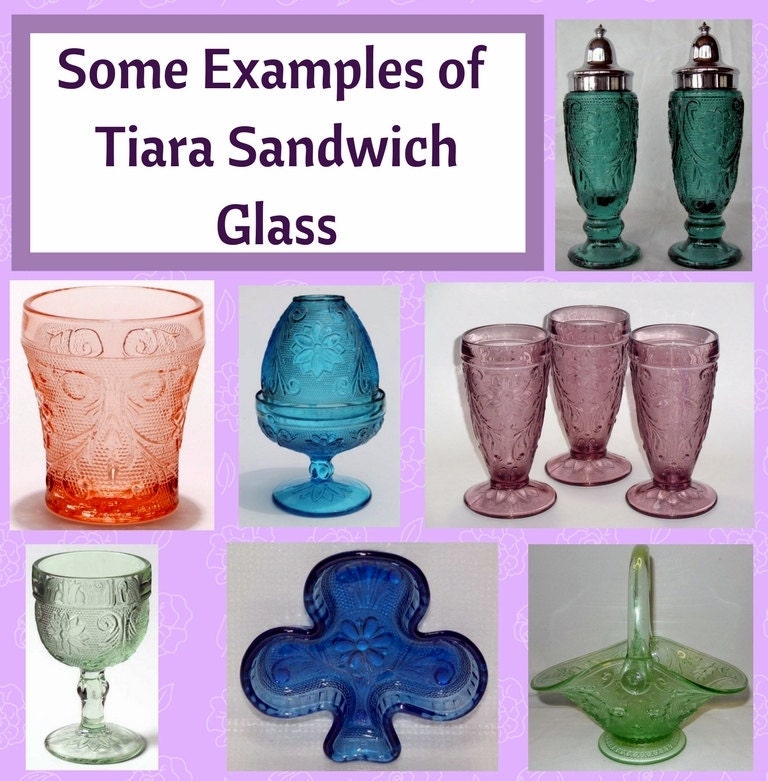 Tiara Exclusives operated for 28 years.
Tiara sandwich glass is what started my love affair with glassware and I actively collect the amber pattern. I started out with the chantilly green and when I had most of the pieces for my collection my tastes changed and I began my Amber collection (sold off all my green pieces in my booth at the local antique mall). I pride myself in saying I have at least one of every piece produced in Amber with the exception of the "stick" butter dish. One day I will find the final piece to complete my collection. After all the fun of collecting is "the hunt".
I love a fall Thanksgiving table set with the beauty of Tiara Amber Glassware pieces.
While I do not sell glassware online (I don't have the heart to ship out breakables) a lot of fine shop owners carry these beautiful pieces of history. Just go to etsy.com and put Tiara glassware in the search field to start your collection today (or add to an existing one).
Additional information can be found at theglassmuseum.com where I gathered the above information from.