Continuing on my quest to treat myself better I was on a mission to find the perfect low carb pasta. One of my all time favorite meal is spaghetti. I have been hearing good reviews on zoodles so I decided to give it a try.
Being a gadget type person I first needed to seek out a spiralizer (I wanted my zoodles to look like noodles). I did not find one at Walmart so I headed to Target where lucky for me they had a very nice one on sale. I purchased the Farberware Spiraletti Slicer Cutter with Stainless Steel Blades for $22.49. Note: the blades are extremely sharp (I cut my finger and so did my son) so be very careful when using and when cleaning.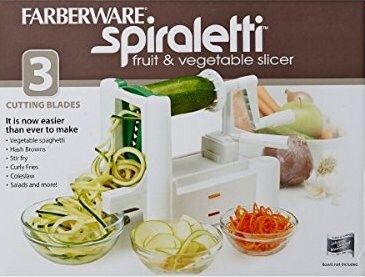 A quick stop by Kroger for some zucchini and I was set for my trial run. My zoodles turned out great (they looked liked noodles). I sauteed them in a pan with a little olive oil (zoodles will have a lot of natural water so just a touch of olive oil to keep it from sticking is all that is necessary). While sauteing my zoodles they put off a strong veggie smell which caused concern about how this would change the taste. I was pleasantly surprised after adding my tomato sauce, I used Contadina Sauce (as it is a lower sugar tomato sauce) and some lean ground beef and voila I had a very low carb spaghetti that even I the most critical spaghetti lover loved. 
I have since used zoodles as a side dish. You can season them to taste with spices and other veggies to create many low carb dishes to suit your personal tastes.
This gadget came with attachments one that sliced thin chip sized slices. I tried sweet potato chips that were very tasty.