Running my online store has afforded me the opportunity to live the American Dream of owning my own business and being my own boss.
To make it a success you have to set aside a consistent work week and put in the hours you would as if you were accountable to an employer and then some.
I tried Etsy back in 2009 for about 4 months and did not find it to be a venue that would bring me the success I was looking for at the time. I believed they were still trying to find their standing in the marketplace but loved the concept of it. 
I starting scouting out local antique/craft malls to try my hand at resell and fell in love with the idea of having a small shop without the risks. I rented a 10x10 space in a new mall that was opening up in my area. This worked for me at the time since you could do this with little to no investment.
The hunt was on to fill my little shop with treasures to resell. I frequented thrift stores, other antique malls, flea markets and yard sales. I bought what I loved (the hardest thing I figured out real fast was that not everyone loved what I loved) so there was a learning curve. You have to be interested enough to learn your market and what people are looking for in your part of the world to buy for resell accordingly. 
I would take my treasures home to clean, upcycle and restore them to a like new condition for its next owner to enjoy. Below are few of my personal favorites.

I found myself back on Etsy in 2014 at the urging of a good friend (thank goodness I took her advice). Etsy has been a fun and upbeat place to sell online and I have made some good friends across the globe, while learning so much about online selling from it.
I have downsized my local presence to a 5x3 space in Bowdon, Ga at a sweet little shop called The Checker Berry (which is celebrating its 24th anniversary this week).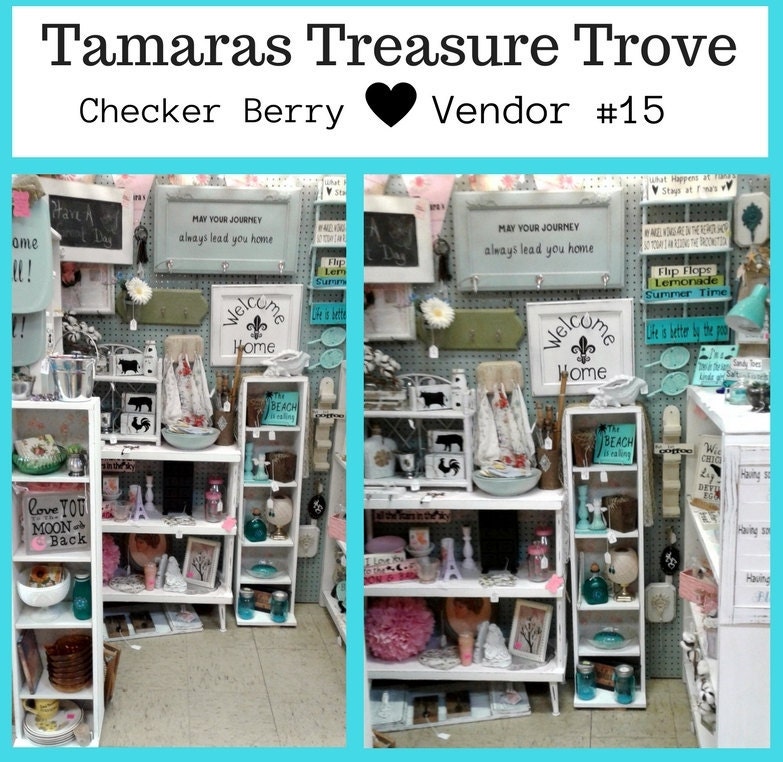 I keep a local space for fun and the love of it, while I put all my main efforts into my online shop Tamara's Treasure Trove.