Brackets have many uses other than the standard use of holding up a shelf to display our books and treasures. Thanks to the website Pinterest you can search, find and pin all your ideas in one handy place.  
I carry different styles of cast iron decorative brackets at Tamaras Treasure Trove.  They are painted and distressed in sets of the popular shabby chic styles so they are ready to go when they arrive at your home. I have added pairs in the natural cast iron (unpainted) if you want to "do it yourself" or if you prefer the rustic look that unpainted cast iron provides.
Bracket/Brace Idea Usage
Create a stylish shelf (add a natural or painted board and attach to the wall)
Bookends  (add L shaped wood to bottom/side for stability)
Shutter Shelf  (bracket in the L fold of the shutter)
Window decoration (attach in the corners of your window)
Entryway decoration (attach in the corners of the hallway openings in your home)
Door Decor (attach in the frame of your doorway)
Add crates much like you would a shelf for more storage room
I have added a collage of pictures downloaded from Pinterest to get the creative juices flowing with just a few of the ideas pictured here.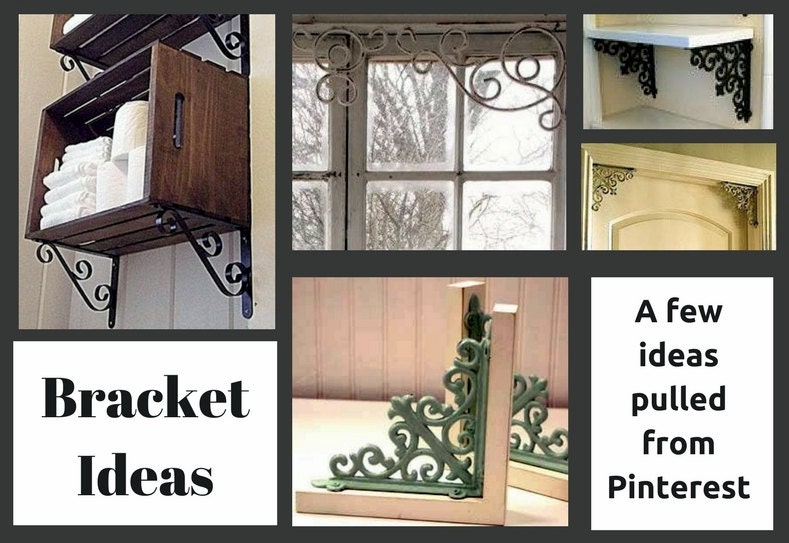 These brackets add a more stylish way to add flair to your home/office/craft room decor. Cast iron adds durability to any project as they are heavy duty and more substantial than common home improvement braces.
The possibilities are endless so start planning your next project today.